Posted by By Marc Cowling (South Devon Bass Guide) on 27th Mar 2018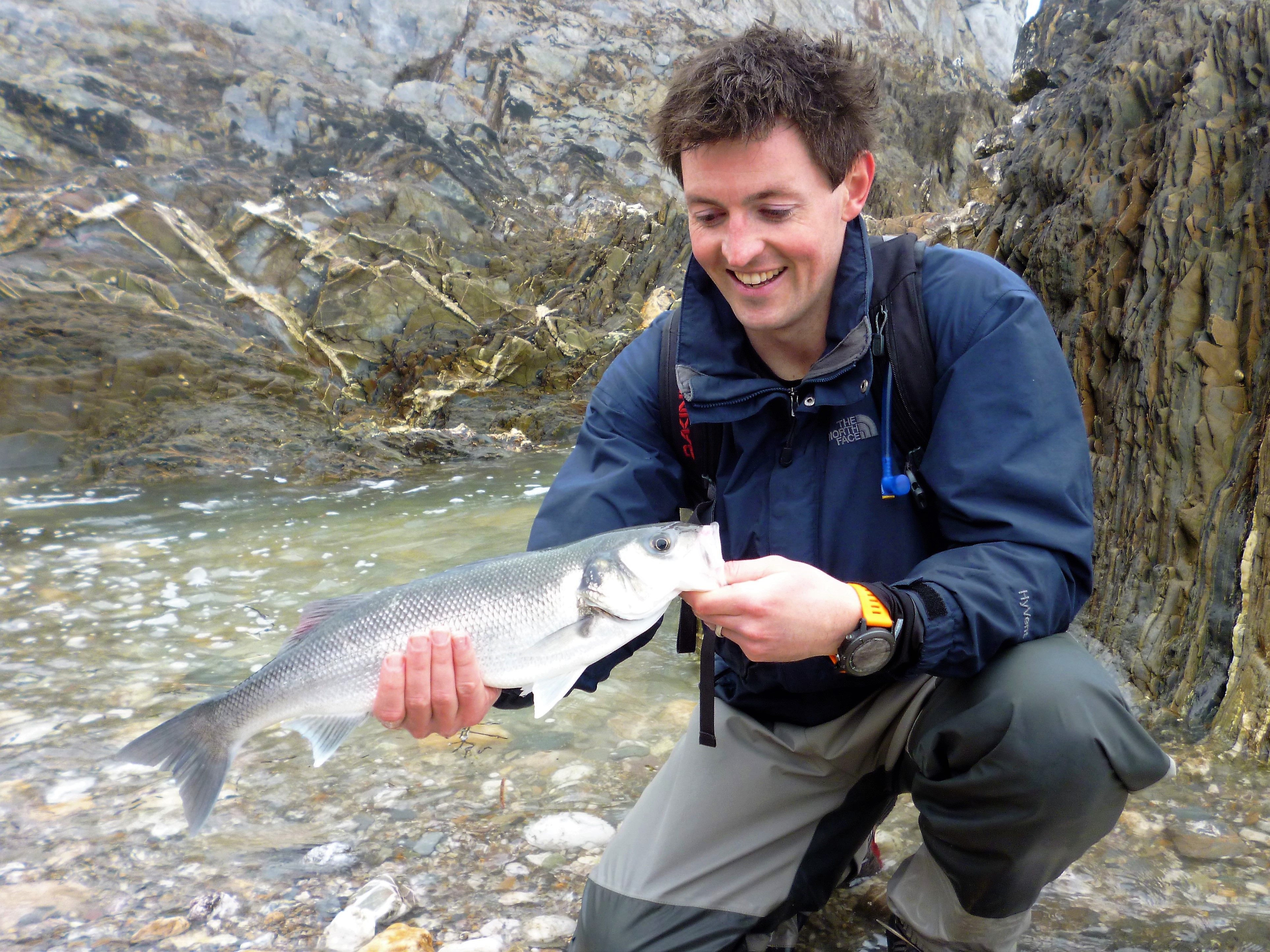 I imagine practically every bass lure angler in the Country is waiting and watching patiently for the reports of the first bass being caught. Social media will go ballistic, and the questions everyone will be asking will be: From which location? And what bass lure was used?
Clearly, these are both very pertinent questions and any answer(s) to the first one will most certainly offer an insight into the their apparent movement around the coastline - to the extent that if someone has caught a bass a couple of miles down the coast, there will be an excellent chance (providing you can locate those pockets of early season fish) that you'll be next! However, it is the answer(s) to the second question that will be of even greater relevance - for the reason that you'll be able to potentially gauge what the bass may be feeding on, in addition to where in the water column it was caught. To keep things simple we'll call it surface, mid-water or seabed.
With sea temperatures not surprisingly a degree or so down on this time last year, any bass that are present are likely to be lethargic - certainly in comparison to the summer months when there are numbers of bait-fish resident and the sea considerably warmer. Therefore, grabbing fast moving items 'close to or on' the surface is less likely to be a successful method - although definitely not impossible as we've seen from the catches from Guernsey this winter. A large, struggling or lame fish is an easy meal at any time of the year therefore, if I were to use a surface lure it would in all probability, be a big popper or the Xorus Patchinko II that I'd attach and fish with bursts of action followed by long pauses.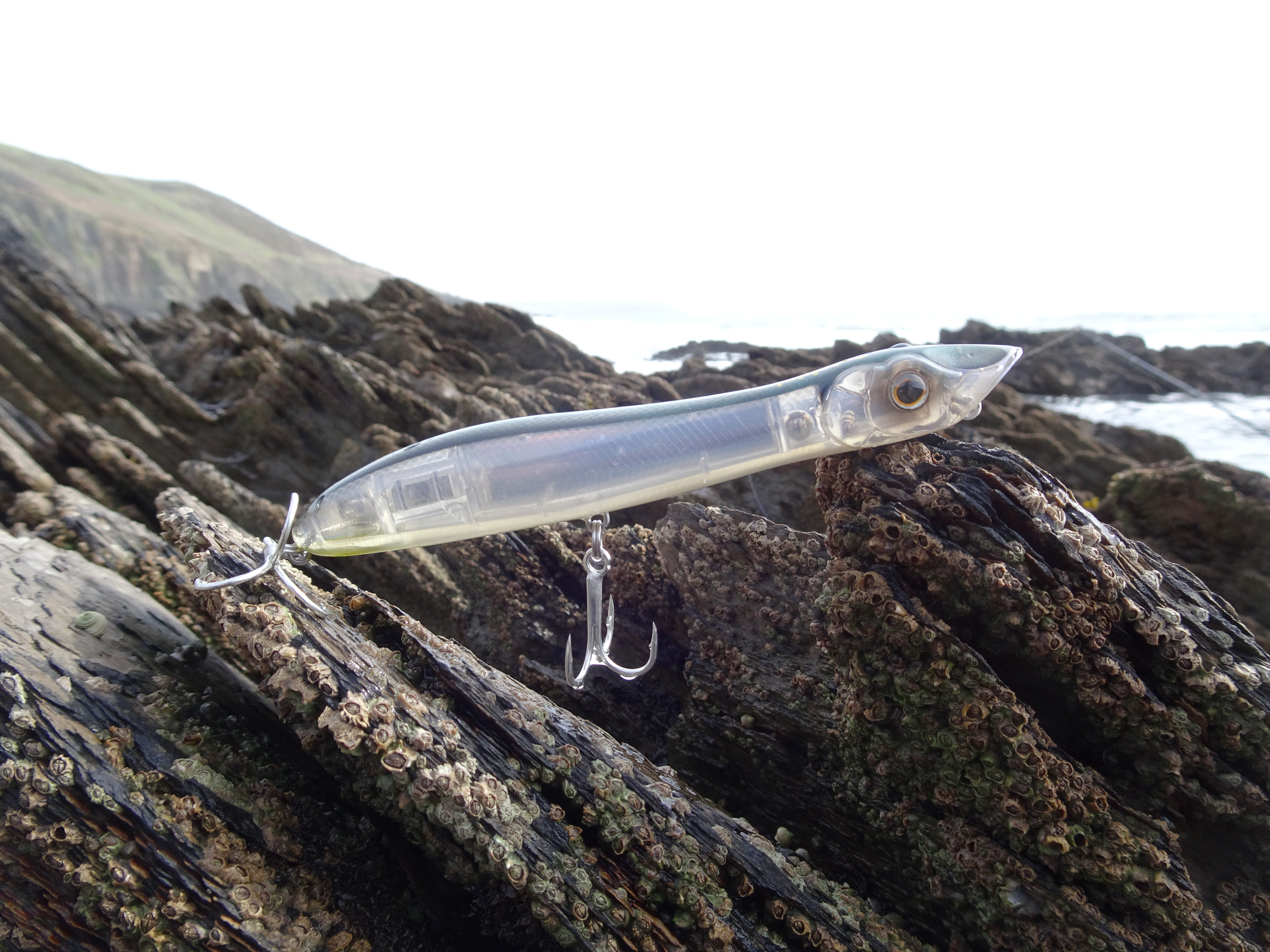 A shallow or medium diving minnow, or indeed a weedless weightless soft plastic fished in water between 1-8ft and covering an inter-tidal zone is more likely to yield a bass in early April. Why? Because there is so much food available in the form of crabs, prawns, worms and importantly pollack, wrasse, gobies, blennies and rockling, in addition to numerous species of fry that will group together in regions warmed by the strengthening sun.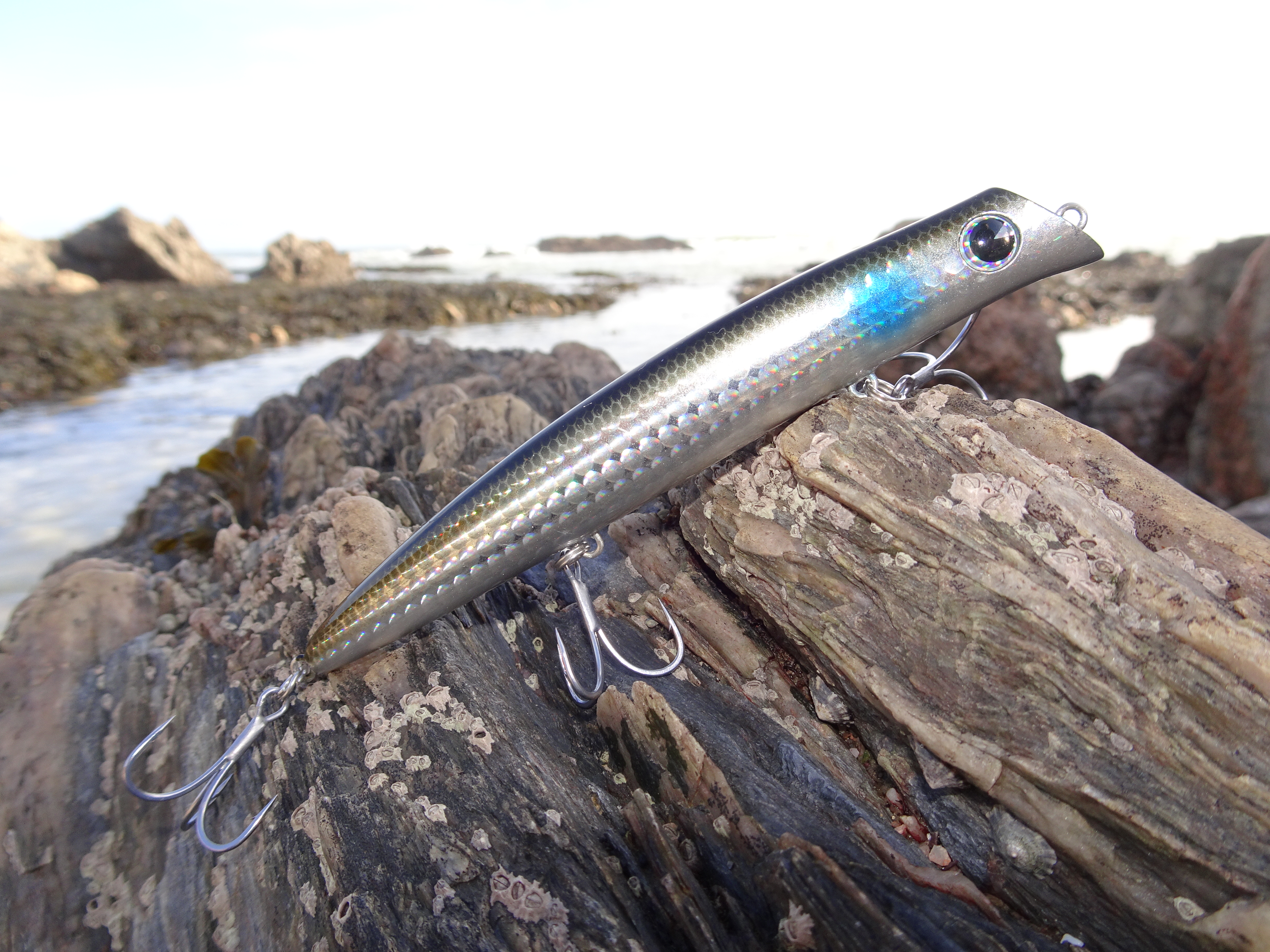 In clearer water, concentrate on naturally coloured and shaped lures to match that of the aforementioned prey such as slender shaped browns/greens with a cream, orange or red belly and more compact looking greys/silvers fished slowly in the shallows, at mid-depth or as close to the seabed and structure as you dare! Hard lures such as the Tackle House Feed Shallow and IMA Komomo SF125 alongside proven soft plastics (rigged weedless) such as the 4.5" or 6" OSP DoLive Stick are in my armoury and ready to be deployed.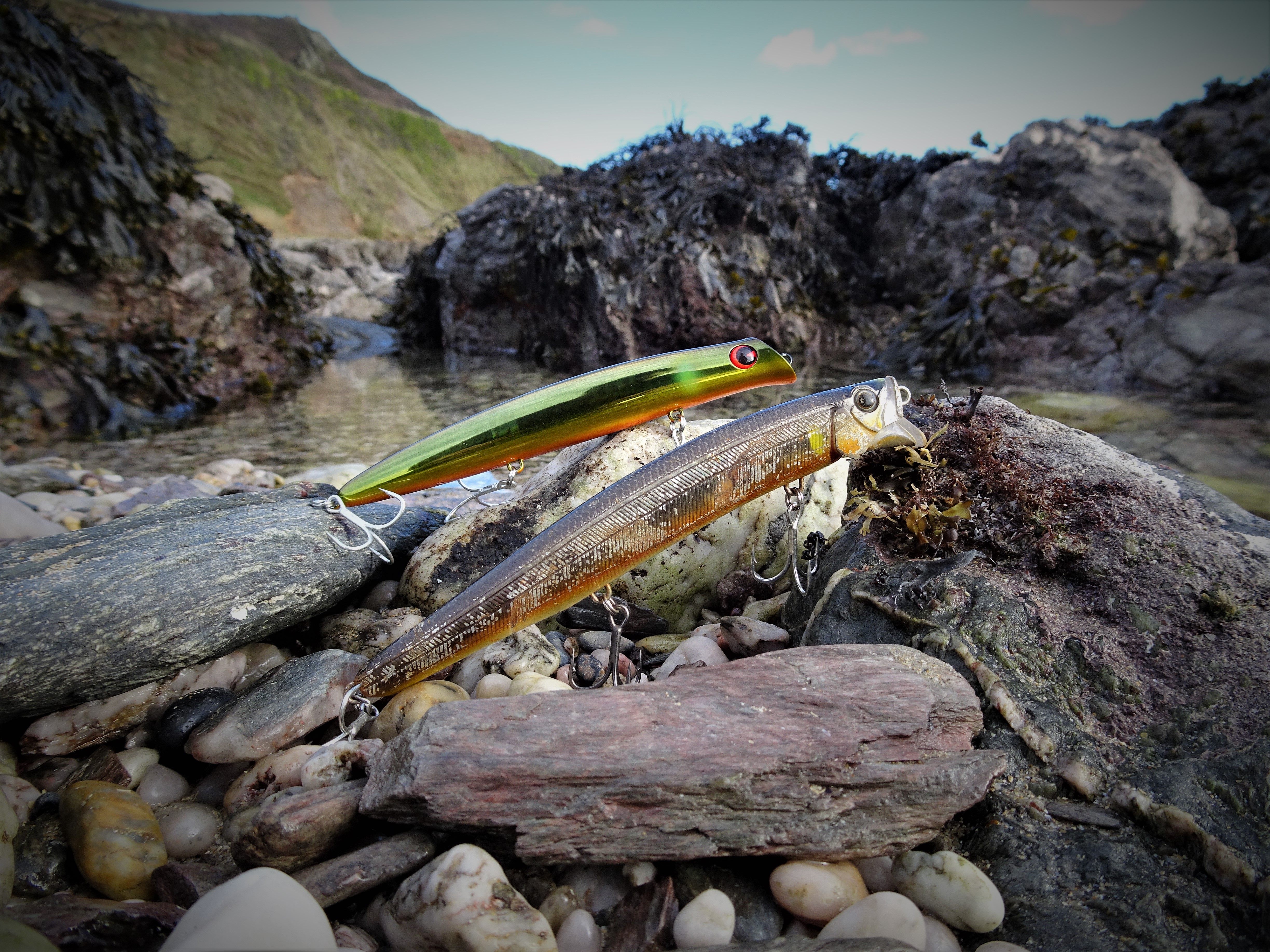 In murkier sea conditions more prevalent in the early spring, a paddle tail lure with its additional vibration - courtesy of an animated and rhythmic wiggle could well be enticing enough to draw an early season bass up from the depths. However, if you're able to effectively bounce a paddle tail on the seabed as you retrieve it I believe this could offer the bass lure angler the greatest chance of experiencing that WALLOP while you're still wearing your woolly hat!
When you think about it logically - bar the 'thin on the ground' immature fry and elusive squid/cuttle everything else edible will be found hard on the seabed and hiding in amongst the weed, rock pools and under the rocks therefore, a weedless paddle tail that can be slowly edged, sidled and gently tapped across the seabed makes a lot of sense. To achieve this isn't without losing some gear isn't easy it has to be said, and in turbulent conditions the use of a jig-head via the use of an articulated paddle tail could be the only way to maintain contact with both the lure and the bottom. Braid and a modern rod/reel set up will essentially allow you to 'feel' for the underwater structure - whether that's sand, rocks, weed or a combination of all three on one retrieve.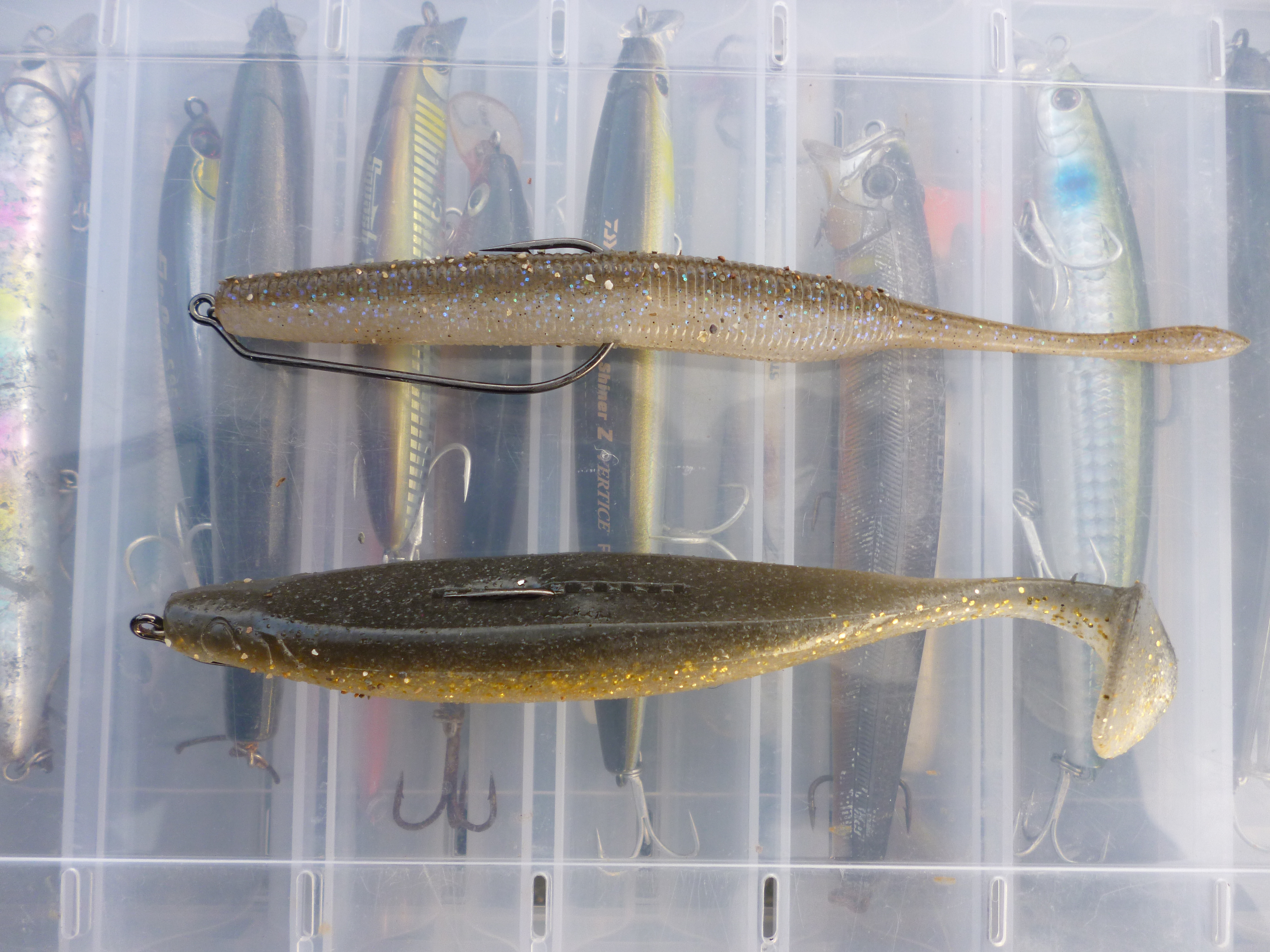 For this method, weightless,weedless lures such as the 'stocky' OSP DoLive Shad (4.5" or 6"), the paddle tail version of the Fish Arrow Flash Shad J 5" SW and Megabass Super Spindle 5" are great patterns to utilise in calmer, clearer seas that can also be fished with confidence over the snaggiest territory. If the sea is coloured up and rougher, then weighted paddle tails such as the celebrated Fiiish Black Minnow, Illex Nitro Sprat Shad or Red Gill EVO Stix (the latter of which is fantastic at combating the effects of suspended weed fragments) are again, my go-to lures.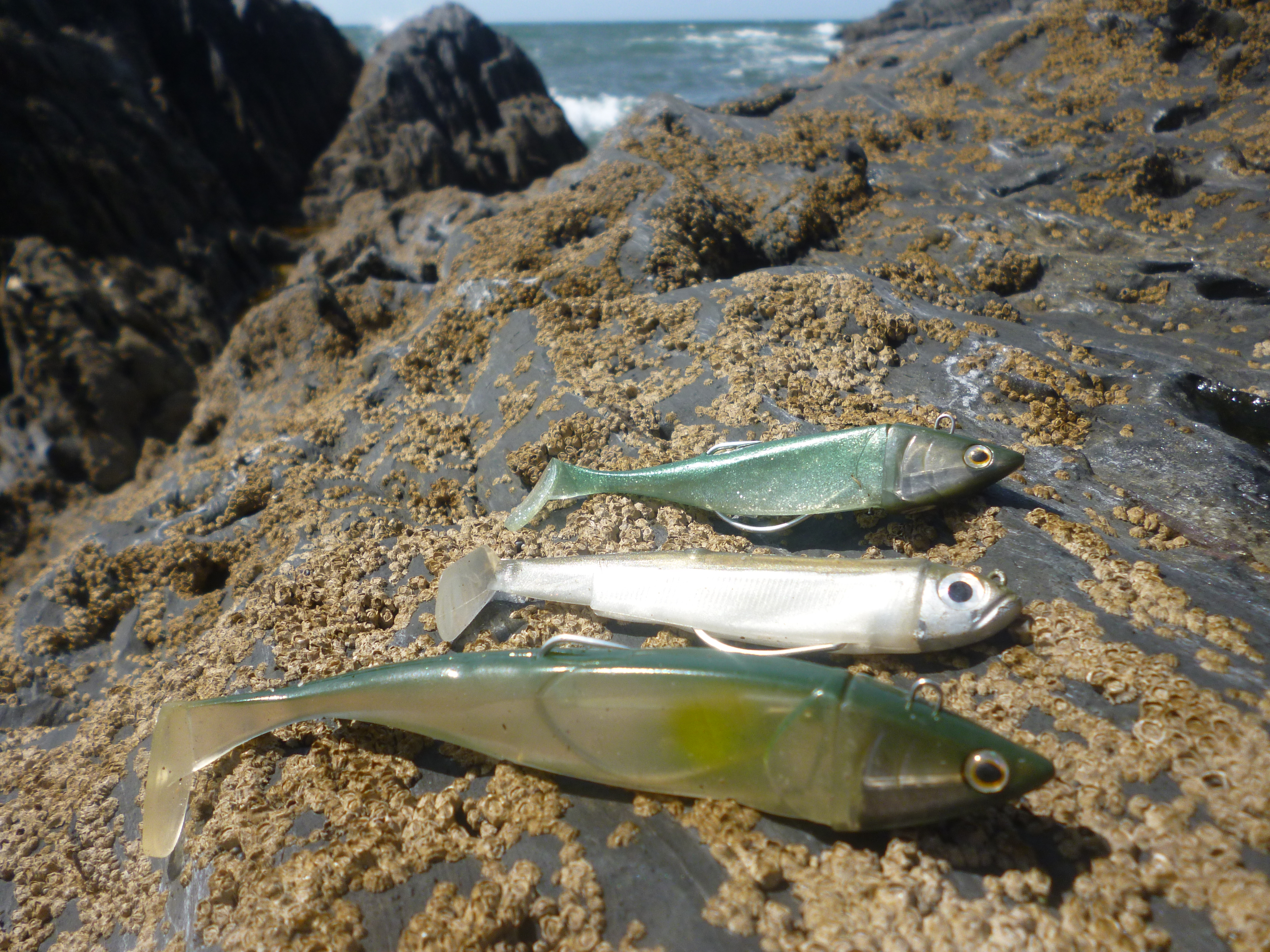 I hope that this short blog post gives you a starting point for the season ahead - here's to a good one!